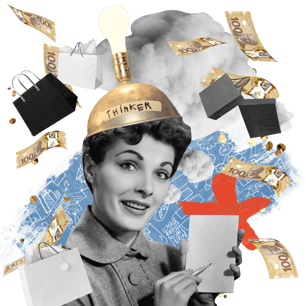 Introducing our BFCM (Black Friday and Cyber Monday) eCommerce Audit and Strategy 'Go-Bag'!
Preparing for Black Friday and Cyber Monday is so critical for having a successful holiday sales season. We are helping our patrons identify areas of opportunity and supporting them in the lead-up to BFCM... and beyond (oooo ahhh!)
Our comprehensive eCommerce and CRO audit will help streamline customer experience, improve conversions and uncover possible roadblocks in your eCommerce website's user-experience and performance. Our Head of Growth will work with you to strategize and advise around your BFCM plans.
Included in the BFCM audit:
● Strategy Workshop and Planning
● Explore Key Problems and Goals
● Behaviour Analytics Analysis
● Conversion and UX Site Review
● SaaS Recommendations
● BFCM Domination Roadmap
The fee for this program is straightforward: $2,500 for the Audit, and we'll credit the entire amount towards a monthly CRO plan if you work with us on at least a three-month growth retainer.
Our team will work with you to plan, execute website updates, launch campaigns, test everything, and support you during BFCM. #TurnKeyAwesome
With BFCM less than 90 days away, now is the time to get your holiday house in order (that sounds festive, doesn't it).
pb+j has you covered with our BFCM Audit and Strategy Go Bag. To learn more about our audit and strategy go bag click here!