2021 marks a banner year: It's the 100th anniversary of the poppy.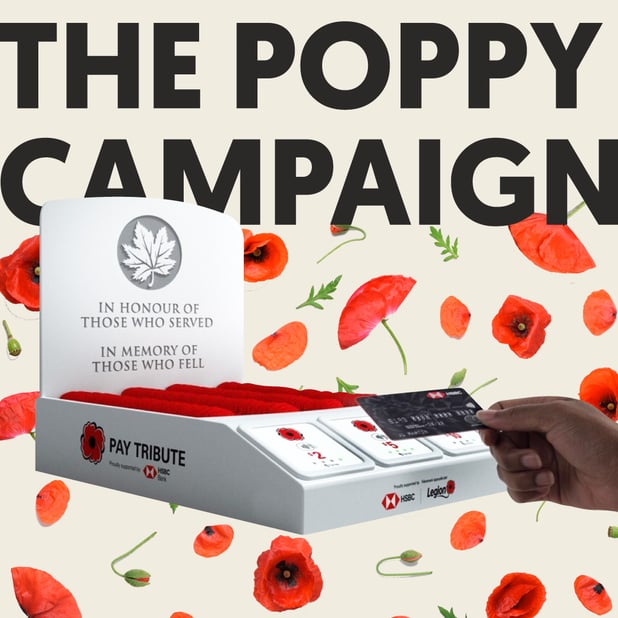 Officially adopted in 1921 by The Great War Veterans Association, it's been a symbol of support and a powerful fundraising tool for a solid century.
But loose change isn't so common these days. Even before Covid, the era of jingly pockets was quickly coming to an end. Layer in a global pandemic that has nearly outlawed actual cash, and The Poppy Campaign needed to rethink things.
Starting last year, Pay Tribute donation boxes were rolled out in limited numbers across the country. These slick tap-enabled kits let you easily give $2, $5 or $10 and have the dignified air of a monument—which we love as much as the tech. You can find a Pay Tribute box in an HSBC Bank Canada branch and within select Royal Canadian Legions.
This year, QR codes are making their debut on every single donation box from coast to coast. Scan one and you'll be taken to a payment app on your mobile device.
And to round out the trifecta, there's a social media angle. Create your own digital poppy at mypoppy.ca . Personalize your poppy by adding your name to the back, and dedicate an inscription to your Canadian hero on the front. Donate however much you like, and share it on your social channels.
We suspect the average online donation will be more than what someone would give in pocket change, but that's just a guess. We're both curious and hopeful to see this year's fundraising numbers.
All funds go to The Legion National Foundation to support Veterans and their families.
Lest we forget.