Reviews are the engine that's driving your eComm empire forward. Manage them badly and you'll be lost in a thorny wasteland of consumer complaints and irrelevant opinions. (Ugh.) Manage them well and you'll see results straight away: Shoppers that are 4x more likely to convert after interacting with reviews. (Yes please.)
98% of consumers feel that reviews are an essential resource when making purchase decisions, up from 89% in 2018. 79% of consumers specifically seek out websites with product reviews, up from 63% in 2018.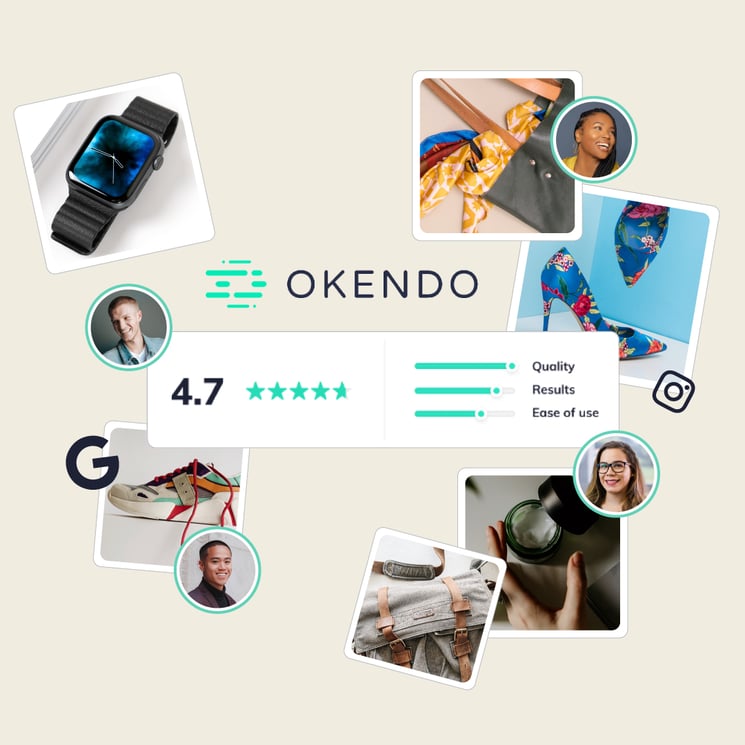 Okendo helps you build trust and sell more.
It's far and away the best review widget we've come across. For starters, Okendo helps you feature customer photos and videos in stunning media galleries. And real people producing real content with your products is a big cha ching for your bottom line.
Okendo filters spam, enables shoppers to ask questions, and collects attribute data that offers brilliant insights into what your customers actually want.
And by automating the customer service process, you'll be able to optimize your onsite customer experience with glowing authenticity and a powerful community of overjoyed users.
What makes them so great, anyway?
Integrate beautifully with Kalvio. Run email marketing against a segmented audience in Klaviyo from data captured via Okendo. Send review request emails through Klaviyo. Leverage highly customized and branded emails as well as A/B testing subject lines and designs. Include star snippets or even a direct review feed for the specific products left in a customer's abandoned cart emails.
Go deeeeeeeeper. Get insights into customer profiles, specific product performance and your customer experience.
Customize your face off. All customer-facing aspects of your review program can be customized and styled to be onbrand. They have a built-in styling editor for review display and email across all plans.
Bask in their over-the-top customer service. There's a lot to consider and do when deploying and running a customer review program, and they're known for always being available to help and assist.
Let's see a case study!
Crunchyroll connects anime lovers with unique fan experiences, including events, games, and manga publishing.
The brand is also home to a well-known ecommerce store that serves as fans' go-to source for anime-related apparel, accessories, figurines, plushies, and much more. If a fan wants to engage with their favorite media beyond the story itself, Crunchyroll facilitates a wealth of community engagement.
Crunchyroll's consumer product range is vast, which made it challenging to keep up with customer feedback and provide dedicated customer service. The brand also dealt with a high volume of "troll" reviews, and shoppers leaving questions in the review section because they lacked a distinct space to do so. It already used Zendesk to manage support tickets and Klaviyo for email marketing, but it needed a reviews platform that could integrate with its existing tech stack and verify customers' legitimacy. Crunchyroll selected Okendo as its reviews provider to improve the quality of its reviews, help optimize its customer support, and increase post-purchase engagement with shoppers.
Improving the Quality of Reviews
Fans are passionate, so it was common for some of Crunchyroll's customers to leave unnecessary or derogatory comments on merchandise related to characters or series they didn't like. This habit made product pages' reviews section unhelpful — shoppers were looking for information regarding quality and customer experiences; instead, they saw arguments and spam.
Crunchyroll's previous review widget also didn't offer a separate section for questions. Shoppers curious about a product's size, material, variants, or other aspects could only get a customer service representative's attention by leaving a review, which further congested the testimonial section on each product page.
"The process was manual and time-consuming," Riley Boulger, Crunchyroll's Ecommerce Site Merchandiser, says. "Any site visitor was able to leave a review, which resulted in a great deal of irrelevant content. By setting up the Review Request Email sequence through Klaviyo, we were able to reserve testimonials only for people who had purchased and received a product. We also created a separate Q&A widget to provide customers a place to ask questions and get quick answers."
Because Crunchyroll's customer service staff used product reviews to determine which customers needed assistance, its website's unorganized review displays made it challenging to identify valid complaints. The brand wanted a way to address problems immediately, so it sought a reviews platform integrated with Zendesk to automate the customer service process.
After reading reviews of other providers, Crunchyroll decided Okendo included all the features it was looking for: the ability to eliminate spam, an integration with Zendesk, and a Q&A feature — not to mention the ability to collect UGC and meld it with the organization's onsite brand elements.
"We want our site experience to be seamless. From landing on the site to browsing and purchasing, we want our customers to realize that we put a lot of thought and care into the shopping experience. Not only does this level of consideration build trust with our customers, but it's also important to us because much of our merchandise is officially licensed from different vendors. We want our site to communicate that everything is legitimate and properly sourced from manufacturers," Riley explains.
Verifying Reviews and Serving Customers Faster
Installing Okendo dramatically reduced Crunchyroll's irrelevant reviews because Okendo's Review Request Email (RRE) sequences capture customers' email addresses when they place an order. If a customer writes a testimonial through the email link, their comment marks them as a Verified Buyer, which automatically authenticates the validity of their review and assures other shoppers that their opinion is genuine. Riley notes that this feature "was a big help in removing unwanted content and elevating valid feedback to help guide our customers."
Okendo's RRE sequence simplifies soliciting genuine reviews. Crunchyroll boasts an impressive open rate of 50.2%, indicating a high number of customers are interested in post-purchase interaction. The brand notes that since implementing a RRE sequence, it's received thousands of orders from customers who received the email, re-visited the site, and made another purchase in that same session.
Addressing customer complaints became much more manageable too, thanks to Okendo's integration with Zendesk.
"Now, with the Zendesk integration through Okendo, any review that comes through with a rating of three stars or fewer will automatically create a support ticket in Zendesk. Our Customer Service Team can immediately respond to the review with a follow-up email, which saves everyone time and ensures customers are satisfied."
Satisfied customers leave more positive reviews—and they're more amenable to sharing different kinds of content. Anime is a visual-heavy industry, so photos and videos of how customers use, display, or wear their purchases go a long way toward building shopper confidence. Crunchyroll has been able to generate as many as 4,712 reviews in 2021 with Okendo, many of which include some form of UGC.
In addition, Crunchyroll's review widget collects and displays feedback regarding specific product and customer attributes, such as quality, size, and age range. This data informs the brand about its most successful merchandise and what customers want to see more of.
The Report Card:
4,712 extra Customer Reviews
50.2% increase in Open Rate
13.9% increase in Click-Through Rate
"Okendo has helped us identify highly-praised products to inform our buying decisions, improved our awareness of customer issues so we can take steps to resolve them, and enabled customers to get answers to their questions through a distinct Q&A feature." - Riley Boulger, Ecommerce Site Merchandiser