Friends, meet ShoppingGives. They're the #1 social impact technology for eCommerce, omnichannel retailers, and direct-to-consumer brands, and they're improving the world by improving our checkouts.
Through their donation technology, ShoppingGives empowers brands to give back in a way that best meets their needs. Whether a brand is looking to donate a percentage of sales, enable customer round-up giving, offer donations at the point of sale through Shopify POS, and more, ShoppingGives has customizable giving strategies for all brands.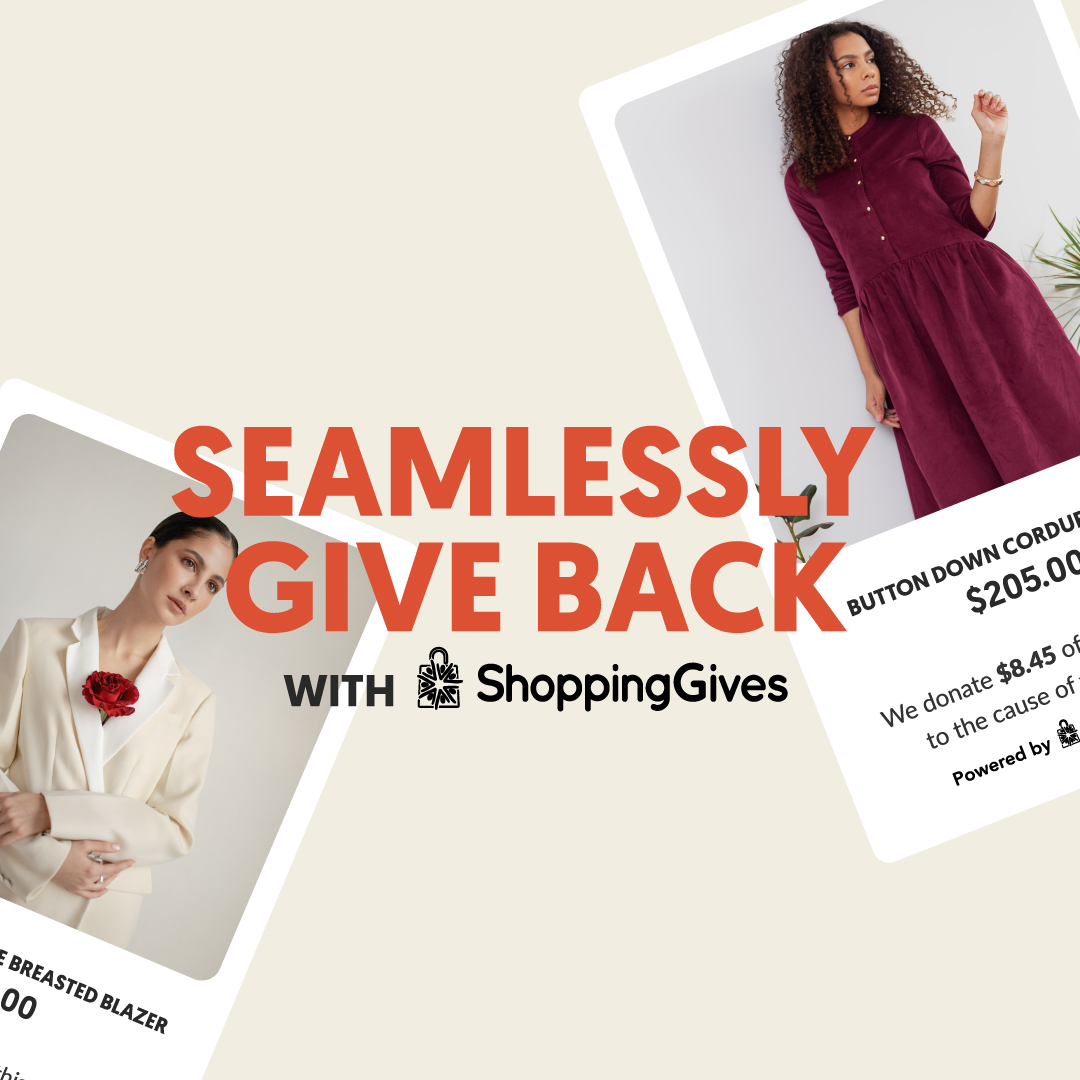 By enabling ShoppingGives' donation technology, brands are able to natively engage their customers with social impact during the purchase journey. Their customers will shop as usual and see the donation widget either on the product, cart or checkout page.
From the widget, customers can select a cause to support with their purchase and learn more about the nonprofits that the brand supports. Once an order is placed and a donation is created, ShoppingGives then manages the entire donation process. Brands can focus on their business, while ShoppingGives ensures their supported nonprofits receive 100% of the donations that have been generated for them.
Through native integrations and customizable giving solutions, these folks help brands of all sizes create more engaging and authentic customer experiences while boosting business metrics like average order value, conversion rate, customer loyalty and lifetime value.
Because good business, as it turns out, is actually good for business.
Let's see a case study!
How Natori partnered with ShoppingGives to support causes as they arise in real time.
"We were delighted to see how much our customers prioritize giving, and how much they value both knowing what causes are important to us, and directing funds to causes that are important to them."
- Ken Natori, President at The Natori Company
Natori is a family business on a mission to make women feel important, fashionable and good about themselves.
This 40-year-old design house has prioritized giving to help empower and educate women, fight against racism and stand against structural inequality around the world through their "Natori Gives" initiative.
As a company that is rooted in impact, Natori is always quick to shift their social impact efforts to support the causes that are in most need.
When the Australian Bushfires arose, Natori donated 50% to the Friends of the Australian Bush Heritage Fund to provide aid towards the relief efforts.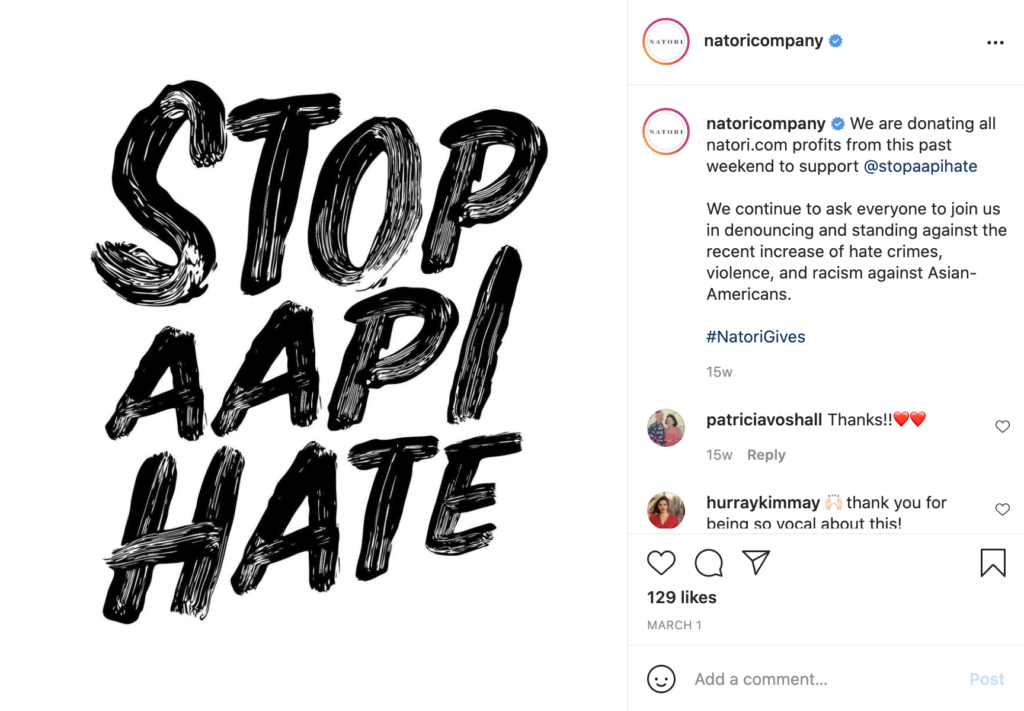 During the Stop Asian Hate Movement, Natori donated 100% of all weekend proceeds to Stop AAPI Hate.
For GivingTuesday in 2020, they donated 10% towards Covid-19 relief causes like Feeding America and the United Nations Foundation.
They also empower their customers to get involved with their giving efforts by enabling them to search and select a cause of their choice.
Natori consistently integrates social impact in their marketing strategies to better engage their customers.
Whether it be on social media or through a banner on their website, Natori always informs their customers of their latest giving activation and encourages their customers to get involved.
Recently, Natori took their impact efforts even further by creating an impact-focused paid ad campaign to test how impact messaging performs against their traditional paid advertising efforts. Natori wanted to see if impact-focused messaging in paid advertising efforts resulted in higher click through rate (CTR) and return on ad spend (ROAS) when compared to their general paid ad campaigns that focused on products or sales.
In the impact-focused ads, Natori informed their customers of their partnership with ShoppingGives and highlighted the fact that every purchase they make can have a positive impact for a cause of their choice.
Natori found that the impact-focused ad campaign FAR outperformed their traditional product focused campaigns.
2.5% Increase in CTR!
109.8% Increase in Conversion Rate!
136.5% Increase in ROAS!
With the rise of conscious consumerism, Natori was able to utilize impact-focused advertising to create authentic synergy between their brand values and the values of conscious consumers.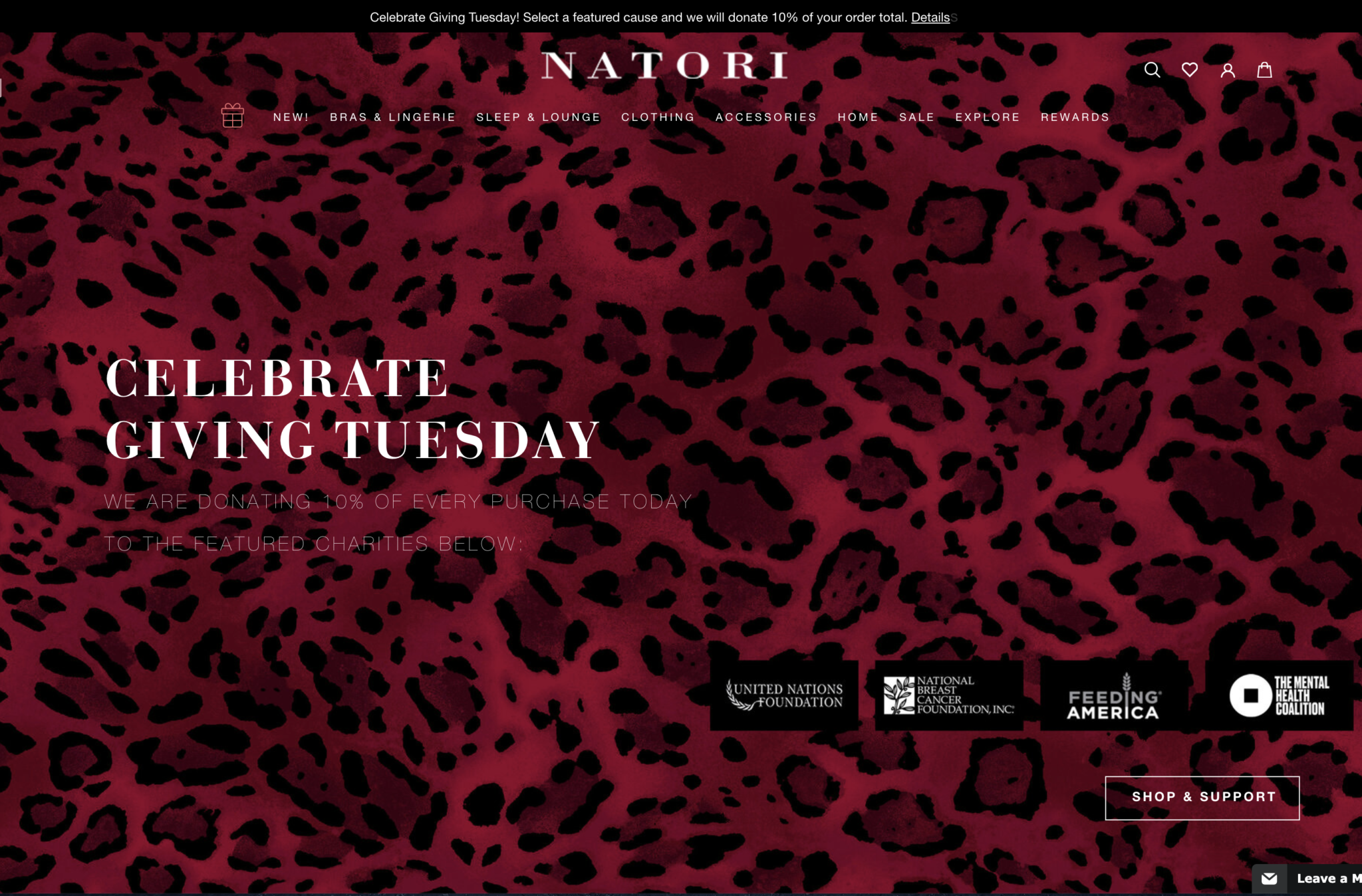 Looking ahead…
A recent study shows that nearly 60% of consumers in the U.S., along with nearly 75% of younger age groups, said they want businesses to be vocal about important issues. This means that these younger consumers are seeking value-alignment in the brands that they choose to support and will continue to choose purpose-driven brands, even despite previous brand loyalty to another brand.
Tomorrow's consumers are going to continue to pay attention to a brand's CSR efforts and will continue to choose brands that engage in authentic social impact. Brands like Natori who integrate social impact throughout their customer journey will continue to attract conscious consumers through authentic value-alignment. As the competition between eCommerce brands expands, engaging in social impact can be the differentiator for conscious consumers.
Questions about ShoppingGives?
They're friendly folks. Ask them anything you like here, and make this the year you turn your eComm efforts into an engine for social change.