Coding is… complicated. Building an app for your store shouldn't be. Our friends over at Tapcart made the process quite simple. According to Statista, mobile devices generate about 54.4% of global web traffic. With the increase in smartphone usage, having an app is becoming more relevant.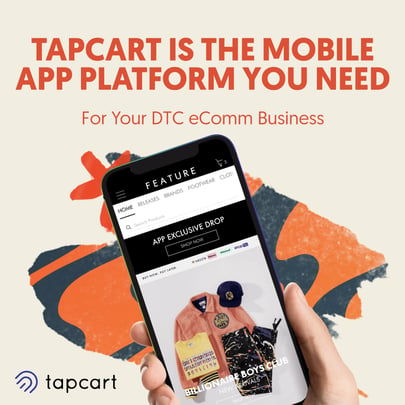 Tapcart is a no-code mobile app platform for Shopify stores. Merchants can quickly and easily turn their Shopify store into a mobile app without sacrificing anything from their web store. By adding a mobile app, merchants are able to give their top shoppers a premium shopping experience which in turn translates into greater brand loyalty and recurring revenue. By remaining top of mind, occupying prime real-estate on shoppers' phones and by reaching their audience directly though push notifications, brands are able to drive more traffic and attain higher conversion and retention rates.
Mobile engagement to mobile conversions
Genuinely engaging customers is a struggle for many brands. More and more brands are seeing one-stop shoppers, but they struggle to re-engage them and secure their brand loyalty. Their mobile website drives traffic but they aren't seeing the conversion metrics that match the traffic numbers.
Lahana has always believed in the power of omnichannel marketing. Whether it was a brick-n-mortar pop-up or social media advertising, Lahana has had their bases covered. Investing in an omnichannel approach has allowed them to gain a cult-like following with a steady repeat customer rate. With most of their traffic coming from mobile and massive success on mobile-first social platforms like Instagram, Lahana saw the potential of mobile. Wanting to capitalize on that traffic, they looked to Tapcart for an app that would help mobile conversions even more.
Lahana was founded in 2015 by two sisters with a clear vision to empower women worldwide with beautiful swim apparel. The team believes in creating high-quality pieces to make customers feel confident in their skin. Their defined mission made waves in the swimsuit world, and before long, stirred a collaborative movement on social media that has resonated with hundreds of thousands of women.
After exploring multiple solutions for building out an app, the team selected Tapart for its ease of integration with Shopify as well as its 5-star reviews within the Shopify App Store. The overall process was "very straightforward and easy." From the moment they subscribed, their app was up and running in one month.
With a mobile app, paying third parties or different platforms for access to their consumers' attention is not a factor needed to consider when budgeting sales channels to bait customers to a brand's mobile website. Instead, your brand's mobile app is both a marketing and end-to-end sales channel that drives high consumer intent, lucrative traffic and converts mobile at 3x the rate of mobile websites.
Lahana had ambitious goals to maximize the performance of mobile, their largest channel of online traffic. The result was a visually stunning mobile app that provides a seamless experience with faster loading times, fewer cart abandonments, longer shopping sessions, a higher average order value, and 6% higher LTV since launching their app.
Lahana has also strategically positioned their app as a retention tool, using the app to provide value to 4,000+ of their most loyal fans. The team uses push notifications to reach users with creative alerts about new blog content, sales, collections, and app-exclusive products.
The Power of Push
Push notifications are the perfect way to engage with your repeat customers who have downloaded your app. Imagine delivering a streamlined, personal experience designed for the mobile device directly to your customer's mobile phone. Not only is it a marketing channel—where you can send free, unlimited push notifications to an audience of subscribers, but it is also a sales channel optimized specifically to convert on mobile. Unlike the seamless and personalized approach of push notifications, email marketing is cluttered and open rates are far too low. Not only are push notifications opened at 5x the rate of email, they are generally opened in real-time meaning all time-sensitive promotions will actually get opened and read by your customers.
Additionally, push notifications can be location-based so that you can present customers with special offers when they get near one of your brick and mortar stores. Notifications can also be issued when you need to unload some merchandise and run a special sale or offer a promotion to get the word out about a new item.
Best of all, Tapcart offers free and unlimited push notifications to all its merchants. Let's say that again for all the digital marketers in the back: free and unlimited! It's a total game-changer.
Retain and convert
Retention is by far the biggest challenge we hear about when talking to Shopify stores. The typical story is this: a curious customer stops by the store, perhaps eventually makes a purchase, and then disappears and never comes back. Or, stores are finding that session length is cut short, the average order value is unimpressive, and the frequency of purchase is next to nil.
There could be a dozen reasons for these scenarios—all of which are alleviated by a mobile app. To start, mobile websites are comparatively slow. With mobile apps, your site is native, meaning every single page is pre-downloaded and requires zero wait time to navigate, making the app 6x faster than mobile web. This is especially important in an increasingly impatient user base, where every second your Shopify page spends loading results in a 7% or more loss in conversions.
Another reason retention is a struggle is because reminders to shop through channels like email are lost in the competition abyss. With channels like push notifications, reminders are front and center, immediately improving mobile app traffic. Customer retention increases up to 80% with a mobile app, increasing traffic, session length, average order value (AOV), and ultimately conversion rates.
Questions about Tapcart
If you want to know more about how Tapcart can be used for growth and engagement for your brand, reach out to us at projects@addpbj.com.
Fun fact: as a select partner, we can snag you a 3-mo free trial, free app design, and setup ($3k value)... https://try.tapcart.com/pb-j/