Seven Nosy Questions with Lillie Sun (Growth Manager at Three Ships Beauty)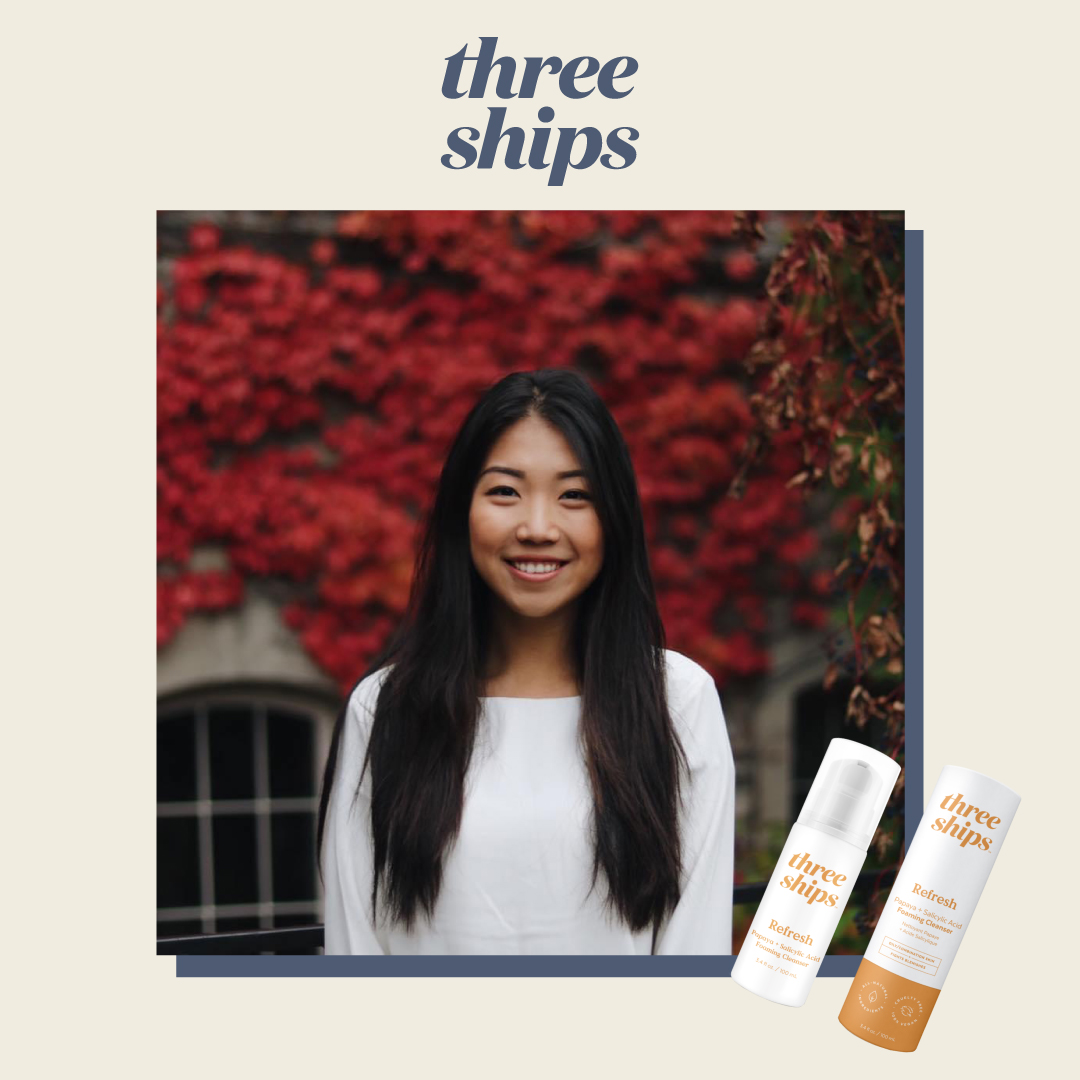 Three Ships is on a mission to be the most transparent beauty brand in the world. So when we interviewed their Growth Manager, we expected some pretty honest answers. Lillie Sun heads up DTC expansion for this digitally-native skincare company that launched its ships in 2017 out of an apartment kitchen in downtown Toronto.
What floats Lillie's boat? Let's find out.
Describe your role.
At Three Ships, I am our Growth Manager. My role revolves around growing our ecommerce channel and getting more people to recognize our brand on the internet. Some days I work on launching campaigns for new products and partnerships. Other days I work on building our new channels like a loyalty or a referral program. It changes everyday, and that's my favorite part.
What does your daily routine look like (and how much sleep do you get)?
I wish I had a daily routine–consistency has never been my strong suit. On a typical day, I wake up around 9:30 and take my time getting ready, especially on my skincare (shocking right!). I spend the morning doing independent work, replying to emails and brainstorming. My afternoons are usually full of back-to-back meetings. Around 5pm, I like to close my computer and spend some time offline. Usually that means heading to the gym, walking my dog or meeting friends for dinner. And then I do this odd thing where I come back to work at 10:30pm until midnight. This is my flow time. I'm a night owl, so being able to work when everyone else is sleeping is when I get my most creative work done. I head to bed around 1am and get eight hours of sleep until the next morning. I always get 8 hours of sleep.
Best advice you've ever been given.
I've been given so many pieces of advice. My favorite ones have always depended on the moment and what I'm working through at the time. At this time, it's "wherever you go, there you are". Staying present in the current moment is so crucial. You can't get caught up in tomorrow, next week, next quarter, etc. This advice applies outside of work, too. Life is precious, no matter where you go, you are there in that moment. Remember that.
What inspires you and keeps you motivated?
Such a great question. It's hard to say. I feel like I'm always getting inspired by different things. Travelling is a big source of inspiration from me – the world is such a huge place. There are so many cultures, history and beliefs, and it all just amazes me. I'm motivated everyday to explore the world and figure out what I can do to make it a better place, even though I know how cheesy that sounds.
How do you celebrate a really big win?
Expensive sushi or greasy pizza. Or both.
What three other people are on your dream Zoom call?
Whitney Wolfe Herd, Vicky Tsai and Adele.
In another life, you'd be a…
Professional athlete!