Global brands grow up so fast these days.
In six short years, Canadian baby goods retailer LOULOU LOLLIPOP has secured distribution in 10+ countries and 1500+ stores in North America, including Chapters Indigo, Nordstrom, Crate and Kids, Pottery Barn Kids, Anthropologie, Buy Buy Baby and Target. Most six year olds are still learning to read.
To find out what's driving their growth spurt, we sat down virtually with twin sisters Eleanor and Angel and asked them what they're doing right.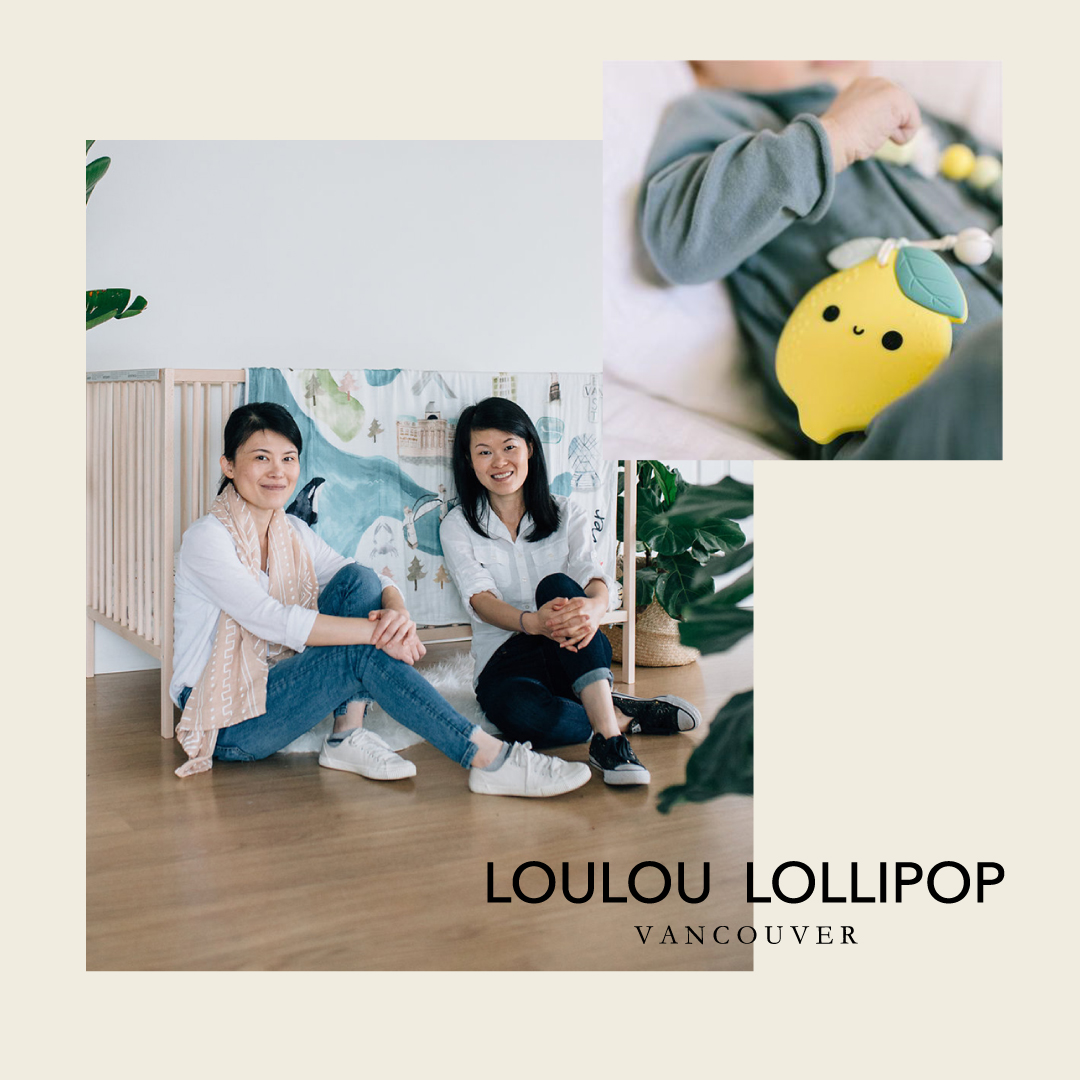 What's your origin story?
Loulou Lollipop started as a handmade shop on Etsy making silicone teething necklaces six years ago. When Eleanor's daughter was teething at six months old, she broke a few of her necklaces. Eleanor started researching and found out about teething necklaces made out of silicone beads for moms to wear. Since nothing on the market resonated with her style, she decided to put her design skills into work and designed her own.
Before starting Loulou Lollipop, Eleanor was an interior designer for a residential construction company. Eleanor got laid off when she was eight months pregnant because the previous company ran into a cash flow problem and went bankrupt. Without a job prospect and wanting to spend more time with her baby, Eleanor and I decided to start the business.
With less than $100 worth of supplies, we opened the shop on Etsy and promoted it through social media.
What does your daily routine look like (and how much sleep do you get)?
When we first got started, we barely slept. We were running on coffee to keep us energized throughout the day and slept on an average of 4-5 hours everyday. The days were a blur as we tried to get things done. We did everything from making the actual products for purchase to sales to marketing to customer service and fulfilment. Now 6.5 years into this business, we have a great team to support us. We focus more on the bigger things, like product development and market expansion.
Best advice you've ever been given.
The entrepreneurial journey is a marathon and not a sprint. It reminds us to pace ourselves and take time for self-care. It's hard to stay focused and keep pushing on if we are burnt out.
What inspires you and keeps you motivated?
It sounds cliché, but our customers and our families are the ones keeping us motivated and inspired. Without them, we wouldn't be where we are today. We take our customers' feedback to heart, and we try our best to design and make products that will delight them. Our families are our cornerstone; they are why we keep pushing hard and striving to do our best. We like our kids to learn the value of hard work and resilience and show them that they can accomplish great things when they set their heart and mind to it. It's empowering to them when we model that behavior.
How do you celebrate a really big win?
We don't usually, and we should probably be doing more often. Growing up in an Asian family, we were always told to be humble, keep our heads down, and not boast about our achievements. We see the benefits of sharing the wins with our team and letting them feel engaged and encouraged. We hope we will be able to treat our team to a nice getaway somewhere warm and sunny. Vancouver rains eight months out of the year, so it's always much appreciated when we see the sun.
The most memorable moment in your company journey so far.
Being part of the 2021 EY Entrepreneurial Winning Women has been the most memorable moment in our company journey so far. It's an honor that validated our work. The whole experience at the EY Strategic Growth Forum was once a lifetime; the connections we made were invaluable.
Advice you would give to someone who wants to start a brand/company.
Build a support team around you because you can't do it alone. This entrepreneurial journey is challenging but rewarding.
A quote by Franklin D. Roosevelt says, "a smooth sea never made a skilled sailor." To be successful, we will go through many trials and tribulations.